Advertising, marketing and PR manager, co-founder
TEISININKASINTERNETU.LT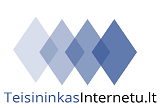 TeisininkasInternetu.lt is looking for a co-founder who is a professional advertising, marketing and PR manager.
If you are passionate about contributing to a new Lawtech start-up which is a new platform that makes it easier and faster to find the right lawyer to any client, you are crazily creative, love your job and have experience in marketing and PR and have strong verbal and writing skills then you are more than welcome to become a co-founder!
REQUIREMENTS
• Fluent in English;
• A proven track record of successful marketing campaigns implemented from conception to the final result;
• Experience using data and analytics to measure the impact of your work;
• Results-driven approach and an owner's mindset;
• The ability to multitask and to be organised and detail-oriented;
• Experience in product marketing or ecommerce fields would be an advantage.
Email us at labas@teisininkasinternetu.lt and ievam@inbox.lt and send:
1. Your resume and cover letter.
2. Links and descriptions of your previous projects.
And then let's meet up for a cup of tea!