UI/UX Designer
Hunters | Vilnius, Amsterdam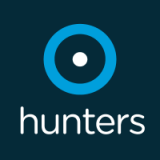 Connecting salespeople with companies
Hunters offers an opportunity to start on the ground floor of a tech. startup and work in a fast-paced entrepreneurial environment.
We are looking for talented and enthusiastic UI/UX Designer who is interested in and capable of moving between design tools (Sketch, Photoshop etc.) and front-end code (HTML/CSS).
Responsibilities
Design web solutions from wireframes and creative briefs that are on target with the objectives
Collaborate closely with team members to ideate new solution, features and ensure delivery of best possible product
Educate team members on design decisions and best practices to help find and build best possible solutions
Requirements
A user-first mindset — empathy and advocacy
3+ years of experience specializing in visual design for the web
Proficient in CSS, HTML
Knowledge of Bootstrap, or a similar framework
Masters of design tools such as Sketch, Photoshop etc.
Obsessed with staying up-to-date on the latest UI/UX trends, techniques, and tools
About Hunters
Hunters is an innovative recruitment platform helping Real Estate agencies to hire salespeople. Based in Vilnius and Amsterdam, Hunters is changing the way salespeople are being hired by setting a new industry standard.