Hacker Games: Klaipeda winners announced!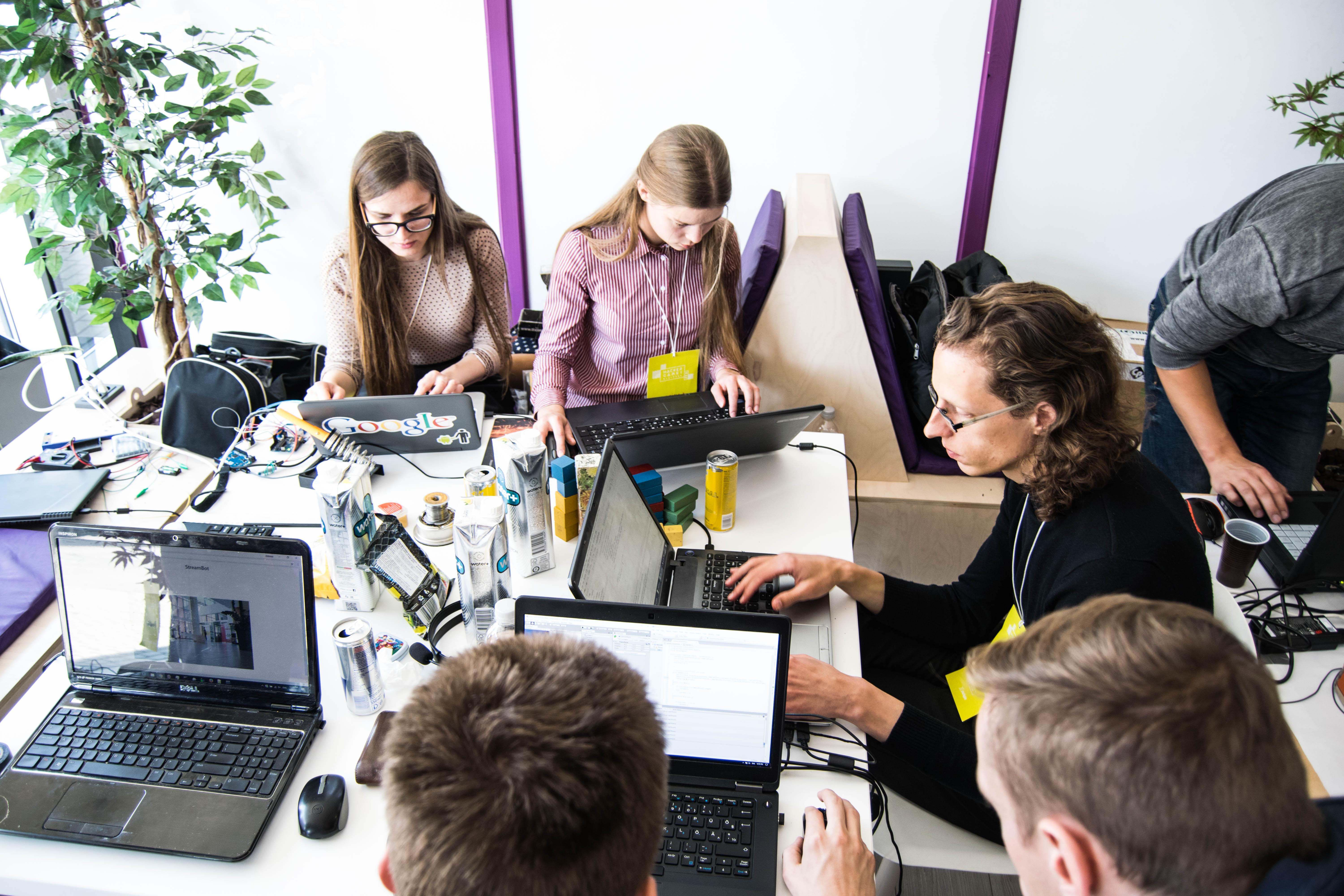 9th Hacker Games were back where it started – to Klaipeda. On 22-24th of September Klaipeda Science and Technology Park hosted around 120 attendees. After 48 hours of non-stop working 23 projects were pitched of which 4 took their prizes back home.
SOFTWARE TRACK:
First place and 600 Eur powered by TeleSoftas in Software track was won by cARgo team founder Martynas Petkevičius, who created hands-free cargo loading assistant using Google Glasses augmented reality.
GAMES TRACK:
1000 Euros prize for an industry trip from Game Insight was given to a team named Blockout founder Dmitrijus Babičius. He created a real time strategy type game – Reversed Arkanoid.
The second place and a 6-months membership from the Unity in Games Track went to a team named Boomboozler, who created a puzzle type game where you have to solve a problem, so that real device in your hands wouldn't explode!
HARDWARE TRACK:
A team called The Light won the Hardware Track. They created a smart lamp that visualizes music.
SPECIAL PRIZE:
Klaipėda Free economic zone (FEZ) has partnered with Hacker Games and established the 1000 Eur prize for FEZ-oriented projects. So the team Red bull warriors won it by creating an app that lets you register a problem to a database really fast.
In total seven Hacker Games participants were interested in FEZ-related product. While games track participants surprised by variety of original games and hardware creators were incredibly smart in creating innovative daily using devices.
In this Hacker Games around 120 attendees were creating products across three tracks: Software, Hardware and Games.
Hacker Games: Klaipeda have been organized by Startup Lithuania, Enterprise Lithuania and IT company Koralis.
This Hacker Games could not have happened without great friends: TeleSoftas, Game Insight and Klaipėda Free economic zone (FEZ), as main partners and Unity as second place prize of Games track founders. We are grateful to Technorama for providing PS4 and other great tools for the participants, to BON CHANCE and "Vilkyškių pieninė" for snacks, also Red Bull and Vitamin Well for drinks.
Please find the recording of final pitches and awards here:
See you in Hacker Games: Vilnius in November. Follow us on Facebook and www.hackergames.lt to get the latest news and updates.
Photos by Sigita Danil and Arūnas Naujokas.