Hacker Games Rocked Klaipėda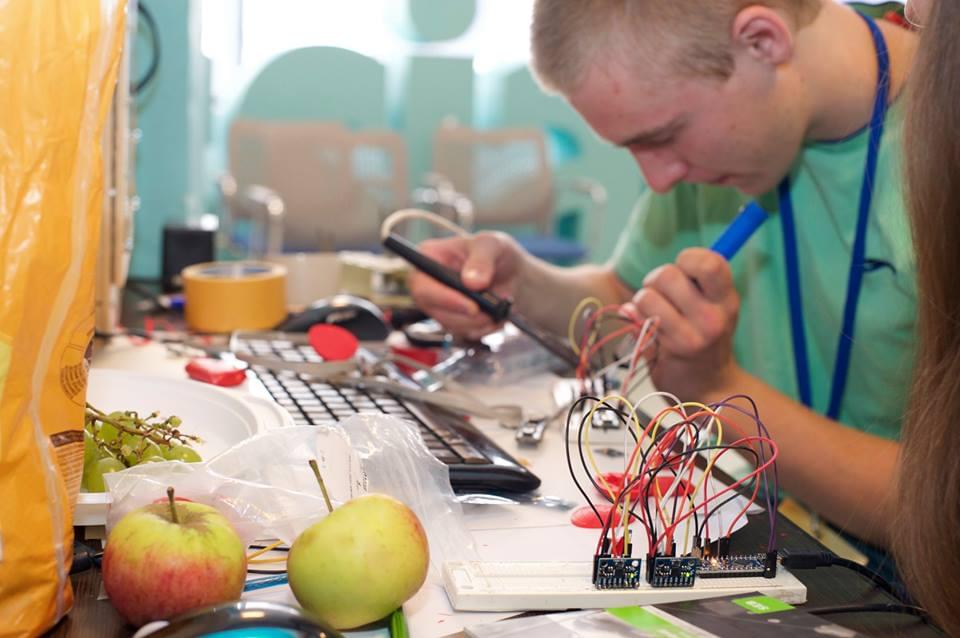 More than 100 participants from ages 12 to 40 came to Hacker Games in Klaipėda last weekend. They have developed 26 ideas starting from apps and games and ending with hardware gadgets such as motion tracker. For some of the people Hacker Games was the first hackathon ever. While Latvian game developer Kaspars claimed that he already losted the number counting the events around the Baltics, where he have participated.
Find photos here.
Jury had tough time to select the winners. However the moment of truth has come on Sunday evening and here are the results:
1st place: DAPA. This team was awarded with Pebble smartwatches.
2nd place: Padirbek.lt. This team was awarded with smart wristbands.
3rd place: Wristy. This team was awarded with battery banks.
Thanks to DFDS Seaways for these smart and amazing prizes!
Discover Klaipėda team, which developed an app for tourists based on information provided by local people was awarded with the special prize from the Klaipėda city municipality.
FestivAll team was awarded with special prize (3 hours of consultations) from The Communication Agency 1323.
Maisto magnatas team was announced as the winners of the best design and received the Tickets to Escape Room.
Here is the list of all the teams:
Speed Memory – a game which helps to foster brain skills for students and entrepreneurs.
Awesome Latvians – game, which combines FarmVille and Diablo.
City vibes – app, which lets you to discover what happens around you by sending alerts to your smartphone when you pass interesting or new venues and events.
Wristy is a wristband which connects people on Facebook right afterwards you touch two wristbands.
48 Hours – finance teaching app for kids. Team plans to develop another app, tailored for parents so that they could monitor their kid's learning progress.
Maisto Magnatas – online fast food business simulator, in other words, a game where one creates a fast food restaurant and tries being an entrepreneur.
Street Notes is the app which unites notes, left by local people in the city and sends you alerts when you pass an interesting building, sculpture or a place, for example it might tell you some history facts etc.
GuideDog is people generated walking tours app designed for individual tourists who can sort the tours according to their situation, taste and time.
FestiveAll – is a place where new gigs kick off! B2B solution for music business. It allows new bands and event and festival organizers to connect professionally and efficiently.
Melm was one of the youngest teams in the hackathon. They created a game "The Guardian", where one character competes with others.
kirkir is pets dating site for professional breeding.
Padirbėk.lt – platform for people, who are seeking for simple, small jobs like walking a dog etc.
Pill 2 learn – app which helps you learn new things faster and easier, as the team says "It will make learning sexy again".
LemonPotato team created an app called "Force", which enables people to create simple games.
A game Legend of The Iron Knight was built by the youngest team in the hackthon! A designer is only 12 years old. The team of 4 guys created this game during the weekend.
Hack Agency – a geo-location based game.
City Cleanup – game where a player has to destroy unfinished buildings like the famous abandoned hotel in Kaunas.
Klaipėda City App -combines events, public transport, and information on places of interest or to eat, as well as a forum where you can find new friends.
Nord is the extension for Google Chrome which allows you to unblock the censored content online.
Discover Klaipėda tourism app is generated by local people and it might guide you not only to the popular but to the secret places as well.
Ship Klaipėda – an app which provides you with the information about ships, like where did the ship come from, how big is it etc.
Raskmokytoja.lt is a platform for connecting tutors and students.
ReadAct platform enables you to create your own news content by following journalists or newspapers, created by other people.
what2do – a platform, where you can find new friends to spend time with and do cool things together in Klaipėda.
DAPA – a device which tracks your moves and teaches you to run correctly. A motion tracker for sports.
Windrose – app for windsurfing enthusiasts, which tells you the real time weather conditions.