Hacker Games Vilnius: In Time With Current Trends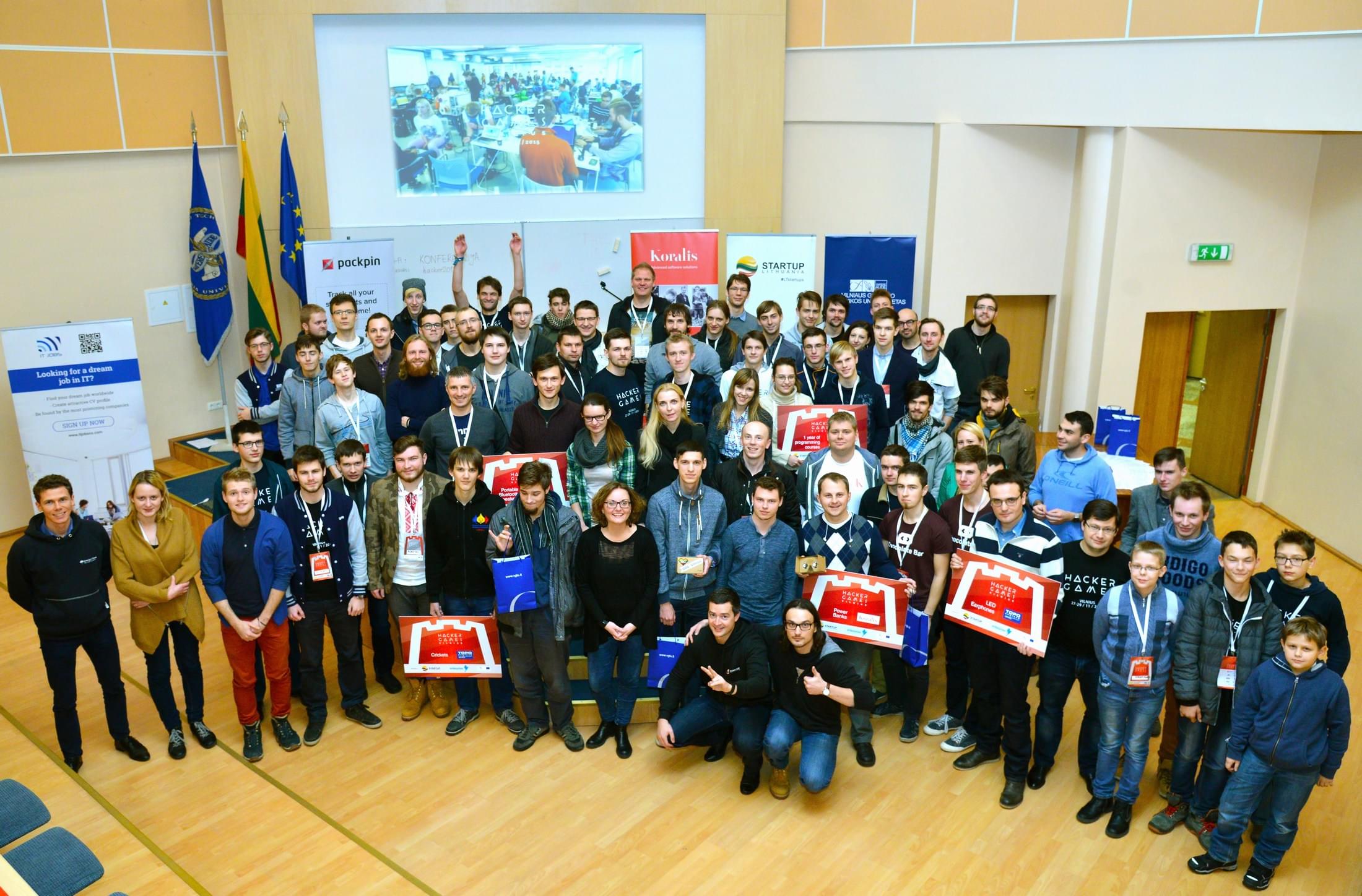 photo credit: Vilnius Gediminas Technical University. More photos here.
132 developers, designers, bizdevs and other progress savvy people gathered together for 48 hours in order to create new games, software and hardware solutions. In total 15 games, 1 piece of hardware and 12 products for business and individual customers were developed during the Hacker Games Vilnius last weekend.
This event was different than other hackathons in terms of teams' assessment. The number of games developed during Hacker Games is growing dramatically therefore the organizers decided to split all the teams into two groups: gaming and software products thus leaving tension and competition focused towards the final product.
During the final pitches all the games were assessed for their artistic solutions, originality, progress which team had made during the weekend and of course for amount of fun you can get playing the game.
While software products collected points from the jury mainly for the relevance of the problem which they are solving, for the solution itself, design, customer validation and progress which team had made on the product.
Below you can find the highlights of the Hacker Games Vilnius:
Mirror-like device was the only piece of hardware created during the weekend. This device consists of a mirror and a code written by a 14 years old guy. You can hang this interactive mirror in your bathroom and check your email, tweet etc. while brushing your teeth.
Team "Igor" crafted a game which is related to the latest Lithuanian scandal widely covered by media. Main character of the game is Igor, who carries a gun, walks in the city, uses public transport and scares people.
Game "Winter is coming" is like a small protest against the municipality of Druskininkai, which prohibited feeding birds in public places. This game allows you to build a nest box and take care of wild birds.
"Rad Games" is a unique team as its members are aged from 11 to 14! Kids say they participated in the hackathon because they want to gain experience in developing games!
While "One Man Team" is a team of a single man literally. 29 year old game designer Dmitrij joined the Hacker Games Vilnius in order to test his own abilities and to understand what product progress from a scratch he can make in 48 hours. Therefore Dmitrij created a block clearing game and won the 1st place in the category of games! He was awarded with "Cricket" and LED Earphones from Topo Centras.
The other 1st place and same prizes went to developers of the browser based multiplayer game "KoopDungeon". Two more games were awarded for great performance during the Hacker Games. Creators of the "Overtime Escape" were awarded with a 1 year of programming courses for free from STEP Computer Academy. Developers of "Cupzle" got "Unity" license for 1 year.
Jury decided to announce two first places in the software category as well. "eVRy launcher" was awarded with power banks from "Koralis" for their VR apps organizer while "Get a follow" team received speakers from TransferGo for their platform which enables business to manage their Twitter accounts easier.
Developers of the face recognition and data analysis app "Face Tag" together with the creators of the mood tracking and music platform "Modiepie" were awarded iWatches and Magic Mouses from IBM Lietuva for the best usage of BlueMix. "Modiepie" team went on stage twice as they were awarded with office space for 3 months from STEP Computer Academy.
Special thanks to our friends "Foosin", "Žemaitijos pienas" and "Nescafe" for providing participants of the Hacker Games Vilnius with snacks, soft drinks and entertainment!
Hacker Games is the series of hackathons organized by Enterprise Lithuania and Startup Lithuania. First event took place in Klaipėda last September.
Startup scene in Lithuania is powered by Startup Lithuania and Enterprise Lithuania. Enterprise Lithuania is a public non-profit institution fostering entrepreneurship and export in the country. At the same time it is a coordinator of Startup Lithuania community.